Kitchen cabinets are built-in furniture for the storage of foods, cooking equipment, and even silverware and dishes for table services which are installed in many kitchens.
Appliances integrated into kitchen cabinetry includes refrigerators, dishwashers and ovens.
Cabinets which store food must be kept clean with clean cloth or feather dusters since kitchens are rooms for food preparation.
Warm water and a grease solvent can be used to remove tough grease stains and coarse dirt, it is to be wiped clean with a plain cotton cloth. Furniture must also be cleaned properly.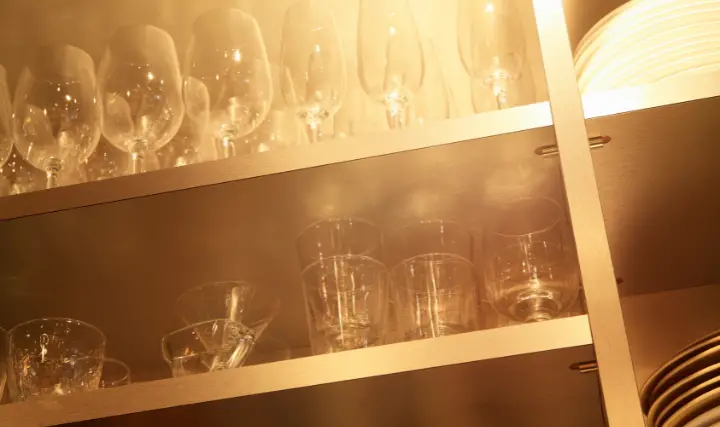 Cabinet Refacing
Kitchen cabinet refacing is a convenient way to give your kitchen a whole new look. It includes replacements of cabinet door and drawer fronts and covering the exterior of cabinet boxes.
Cabinet refacing is a convenient alternative for kitchen cabinet refacing.
This is because, they are simply refreshed with new front coverings rather than removing and replacing cabinets.
It refreshes your kitchen's look in a fraction of time it takes to install new cabinets.
It gives your existing cabinets a new look. Refacing transforms their look, style and texture without irritating inconvenience, the cost and mess of replacing them.
Read:How To Clean Kitchen Cabinets Before Painting
Process
Removing of all existing doors, drawer fronts and hinges are done. Matching coverings of cabinet surfaces are prepared. All visible exteriors of the cabinets are provided with matching coverings.
They are laminated with vinyl or matching veneer.
Coverings are cut for the perfect fit. New furniture like new doors, handles, and hinges are installed.
The new look is completed. Light valances, crown moulding and other accessories can be added for functionality and décor. Cabinet refacing is also associated with lots of dust.
A thorough job for cleaning up is done after the main process.
It is cleaned with industrial vacuum cleaner equipped with a dust filter.
Cabinets consists of hardware i.e. boxes, doors, drawers etc. A wood skin or a laminate is applied to the exterior of boxes in cabinet refacing.
In addition to applying new coverings, doors and drawer fronts may also be completely replaced.  Existing hardware (eg. Knobs, handles and such) can also be reused.
But most homeowners choose to install new hardware.
Cabinet refacing begins with a measuring tape.
When the cabinet refacing company first arrive, they bring measuring tools to take a detailed measurements.
Sometimes even a particular staff is required only for the purpose of measuring
Read:How To Clean White Laminate Cabinets That Have Yellowed
Installation
Installing of new skins to the cabinet boxes is the most difficult and time consuming step in the entire process. You can expect two to four crew members in your kitchen for the better part of a day or two.
They clearly cut and apply veneer pieces to every exposed part of the cabinets.
The crew member will assemble and install the drawers once the new veneer skins cover the cabinet carcasses and face frames. After this, the cabinets and the kitchen are thoroughly cleaned. Window cleaner and cloths are used to clean up.
New doors are mounted on the frames of the cabinets by the refacing team then. All-new doors are installed, often with new hinges as well.
The final step of the process is to install the door handles and drawer pulls.
Kitchen refacing produces a lot of dust.
A thorough job of cleaning up with an industrial vacuum cleaner equipped with a dust filter is done by the refacing company.
The homeowner is rewarded with a kitchen that looks brand new but with low cost about half that of installing all new cabinets when the refacing is complete.
Pros
Refacing cabinets can help you save money as remodeling of kitchen can be expensive. Refacing has advantages. The looks of a kitchen depends upon its cabinet. So they are important parts of a kitchen.
Replacing them can save you almost half of the entire remodeling budget.
You will like to accept your kitchen if your kitchen layout meets your needs. Refacing provides new look of your kitchen at a manageable price.
It provides varied veneer options for skins and laminates. Refacing is more environment friendly than replacing cabinets since it eliminates the disposal of cabinet boxes into landfills.
A tree value is saved when a particular cabinet is retained.
It eliminates the need to construct a new cabinet box. With cabinet refacing, a big difference can be made over replacing of kitchen cabinet doors and drawer fronts having solid wood doors.
The exposed cabinet face frames can also be covered with matching plastic or wood skins.
The cabinets can also be painted well. Smaller budget is required to significantly change you kitchen's look to a new one. Thus, cabinet refacing has many advantages. It is the option to be considered.
Cons
Cabinet refacing is generally less expensive than replacement of entire cabinet with a new cabinet.
But the cost for refacing of cabinets can be added up when you are replacing hinges and hardware. In this way the cost of refacing may sometimes become comparable to the replacement of complete cabinets.
It is not possible to be done by ourselves as the veneering of cabinets is very difficult to be performed by normal people as compared to installing replacement of cabinet doors and fronts.
Refacing requires skilled professionals. Refacing is not a good option if your current cabinet does not have enough space as per your requirements as refacing only changes the layout of your cabinet.