Don't break your scouring pads just yet! Because you are about to get some of the easiest methods of washing your kitchen floor.
So whether your floor is a laminate, linoleum, wood, or tile floor, there are some simple ways of keeping and making them look squeaky clean and bright.
So follow the guidelines below by choosing the right cleaning agent, choosing the right tools for your floor type, and getting the kind of technique for that specific kind of flooring.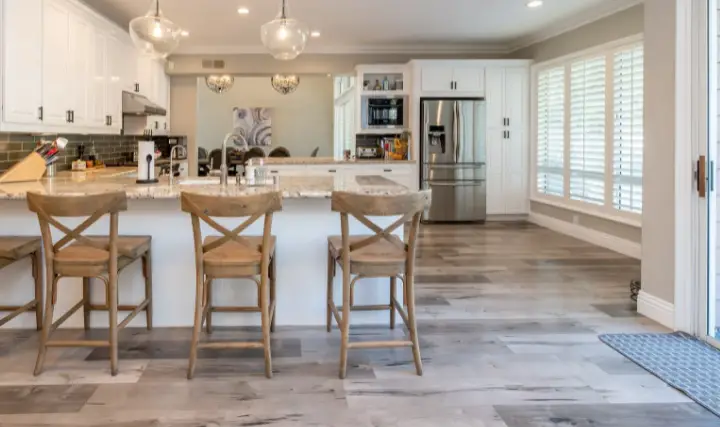 How to Clean a Linoleum Floor
The Linoleum floor is usually made from resin, wood fiber, cork dust, and linseed oil mixed with mineral pigments. If you have this floor, you need to treat it with utmost care.
You can wash your Linoleum floor by mixing a few drops of dish soap and hot water and spritzing. Pour the mixture into a spray bottle and spray the floor one at a time, and wipe immediately using a microfiber cloth.
If you do not have a dry microfiber cloth, you can consider using a dry mop. Once you are done, the floor will air-dry but not almost immediately.
So if you still feel some stickiness on the floor, still use another dry mop or dry micro-fiber cloth to clean the area thoroughly.
How to clean a Laminate Floor
Laminate floors are usually those kinds of floors that resemble hardwood, but they are not hardwood in themselves. Rather, they are planks and natural stone tiles.
But you have to be careful when you care for the laminate floor because very few things can damage the floor.
With the planks that have been constructed in heat-resistant layers to maintain a 'new' appearance for years, it is highly important to keep water from getting underneath the planks.
So what do you do then? How do you wash the laminate floor type? The best thing to do is dry mopping or vacuum the floor.
Dry mopping is when you properly squeeze the liquid out of the soapy mixture, then use the damp mop to clean the surface quickly.
Another tip of advice for laminate flooring is that never polish the laminate floor. Rather, if your laminate floor looks damaged, it's best you replace it instead.
How to clean a Vinyl Floor
To wash a Vinyl floor type, gently mix about ¼ cup of white vinegar, plus a drop of dish soap and warm water, and pour the mixture into a spray bottle.
Then begin to spray the floor one section at a time and keep wiping the floor using a damp mop or a microfiber cloth as you go.
Periodically, you can get a steam cleaner to clean the grout and tile. The steam will help in removing all the sticky stains and bacteria.
How to clean a Hardwood Floor
Washing a hardwood floor is easy if you know about hardwood floors. Hardwood floors normally have two finishes. They have either wax or polyurethane finishing.
Try to rub across the hardwood surface and check if a smudge appears. If it appears, then the floor is waxed. Normally, sealed wood floors have polyethylene and polyacrylic kind of coating.
Now what this coating does, is protect the floors from stains and water damage. To clean a floor like this, all you need to do is, mix a cup of mild or alkaline neutral soap with water in a bucket.
The mild soap can be, like, a quarter cup. Grab a microfiber mop or whatever it is you use in cleaning hardwood floors. Then begin to mop your floor with it.
This will help your floor dry faster. But if your hardwood floor is waxed, then that means you may only need to sweep, dust the floor with a mop, and vacuum regularly because damp mops or washing the floor with even small bits of water will damage the flooring.
How to clean a Cork Floor
The Cork floor is a unique and naturally beautiful kind of floor. It is made from natural materials hence, making it porous and highly sensitive to water.
This is because it is absorbent; most cork floors are sealed, but you still need to be careful while washing.
To prevent damage on this flooring type, it is better you wipe off the spills thoroughly as soon as they get on the floor, then vacuum often to prevent any kind of scratching.
To wash your laminate floor, you can wash it once a week, and you can do this by putting about a quarter of vinegar into a spray bottle and adding just a drop of dish soap and warm water.
You are adding vinegar because it works well with the dish soap to remove dirt and cut across build-up, and disinfect in the process.
Once you are done combining this mixture, do not shake the solution; just gently rock it back and forth. Then spray the section you want to clean one at a time and keep wiping as you spray using a microfiber cloth.
How to clean a Bamboo Floor
Bamboo flooring is unique and is most times not common. However, if you use bamboo flooring, then you may need to keep making it look cleaner and shiny so that you do not get scratches on them that will disfigure the looks.
The Bamboo flooring is beautiful and more prone to scratches more than the hardwood floors.
Now, unless you have bamboo flooring, which seems to be the most durable type available, you must be careful about doing regular sweeping.
Now to wash your bamboo floor, put one-quarter of mild soap into a bucket of water, then swipe across the floor gently using a damp mop.
And when you are done moping, keep using a dry microfiber cloth to remove excess moisture from the floor after moping.
Conclusion
In conclusion, washing your kitchen floor should be a daily task or, better still, a weekly task because keeping the kitchen floor clean is considered hygenic.
So in whatever you do, always ensure that your kitchen floor has been washed with the right tools and with the right cleaning agents but always remember to know your floor type so that you do not handle your laminate floor like a Bamboo floor type.