Greasy fingerprints can be pretty messy when it is found on any surface, especially in the kitchen.
The fact that you cook, bake, and fry in the kitchen, is enough reason to make grease evident on your kitchen appliances and even on your hands.
Now during the process of cooking, you might want to get some dishes or something important from the cabinet, and in the process, your greasy fingerprints come in contact with the fine surface of the smooth kitchen cabinet.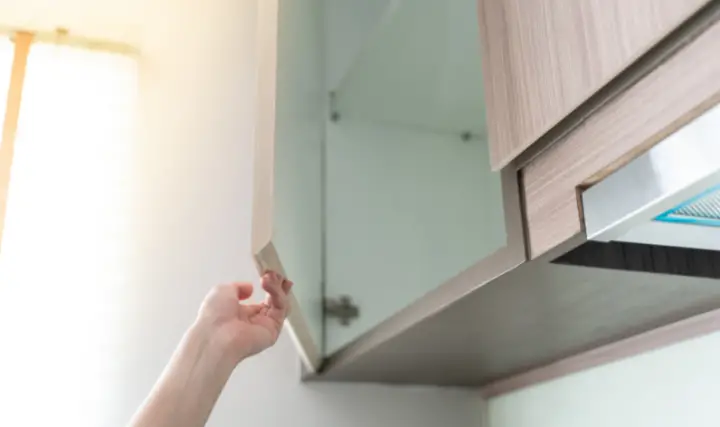 Cleaning Greasy Fingerprints Off Kitchen Cabinets
What you do not know about kitchen cabinets is that they are quite sensitive and are the most important in the home.
In your kitchen cabinets, you keep your kitchen utensils, condiments, and other kitchen equipment like dishes for special occasions and also fine china cups and dishes.
The role of the kitchen cabinet cannot be overemphasized. And that is why it should not be overlooked in the kitchen because if under-maintained, it will dent the appearance of the kitchen.
One of the first things you or anyone sees the moment you walk into a kitchen is the cabinet. That means the kitchen cabinet can be a center of attraction depending on you.
The kitchen cabinet, in themselves, is of different types. There is the wooden type and the laminate type.
The wooden cabinets come with different kinds of finishing.
So you, as the homemaker, need to know the specific kind of finishing your cabinet is made from because the way you clean the laminate cabinet is different from the way you will clean the wooden cabinet with different kinds of finishing.
Read: How To Clean Kitchen Cabinet Hinges
General rules for cleaning greasy fingerprints off
The first rule you need to know is that greasy fingerprints are quite easy to clean, that is, if they haven't been left for such a long period of time.
Secondly, always check to be sure that the kitchen cabinet you are about to clean is being cleaned by the cleaning products and tools that you are about to use.
Next, never make use of abrasives to wash the kitchen cabinets. Abrasives in the form of harsh soaps or chemicals and hard brushes.
These things have every tendency to scratch and harm the surfaces of the cabinet. So you must be careful not to use them or add them to your washing products.
Also, never make use of a solvent to clean off every greasy fingerprint mark from your kitchen cabinet. This is because solvents have been designed to melt tough stains.
And once this is applied, there is every tendency that the finishing on your cabinet will peel off, and you will be left with damaging your cabinet instead of saving it. Stay away from solvent.
Read: How To Clean White Laminate Cabinets That Have Yellowed
Cleaning products and tools
If you want to clean the greasy fingerprint marks, then you need tools like; a soft scrubbing/scouring brush, microfiber cloth, soft cloth, and paper towel.
Then you need cleaning agents such as; mild liquid dish soap, water, enzyme-based cleaner, all-purpose cleaner, and steam cleaner.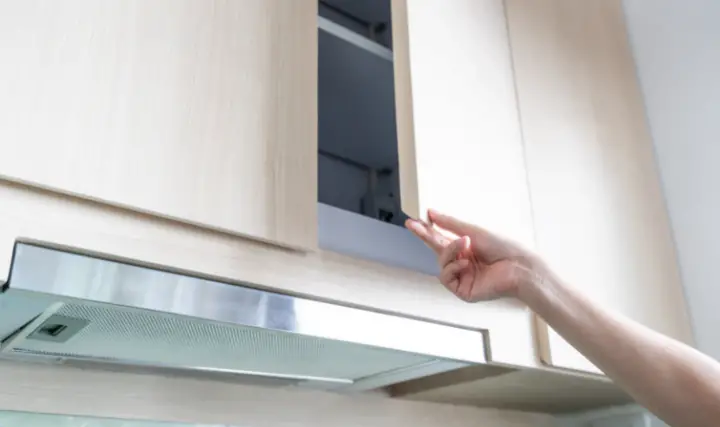 Wooden Kitchen Cabinet
A wooden kitchen cabinet doesn't need much stress. All it needs is mild liquid soap and a soft sponge to get the greasy fingerprints off the kitchen cabinet.
First, get a little bowl of water, although it depends on the number of kitchen cabinets you have. Soak the soft sponge of foam in the water, then bring it out, and squirt some soap on the foam.
Afterward, use the soapy foam to scrub the wooden cabinet from to bottom.
Never forget to scrub the fingerprint mess.
Once this is done, use a paper towel or preferably a microfiber cloth to rub the soapy surface of the kitchen cabinet. Do this repeatedly until the cabinet is free from greasy fingerprints!
Laminate kitchen cabinet
Remember that the laminate kitchen cabinet is quite different from the wooden cabinet.
So what do you do? You must understand that the laminate kitchen cabinet needs mild cleaning as well, not a rigorous one. Get a small spray can and all-purpose cleaning soap.
Pour some little quantity of all-purpose soap into the spray can, then add some little drops of vinegar if you wish.
But vinegar will help in killing the germs and dissolving the stains permanently.
Shake the spray can vigorously, then spray the exterior part of the kitchen cabinet generously, covering the greasy fingerprint mess.
Once you are done with spraying, you can leave it to sit for about 5 to 10 minutes.
Afterward, get a dry microfiber towel and wipe the cabinet firmly, getting rid of any soapiness or slippery feel on the surface.
How often should the kitchen cabinets be cleaned?
As often as possible. If you can clean it as soon as you are done in the kitchen, then it will be good because it will limit the number of buildups.
However, it is perfect for getting them cleaned weekly. At least this will buy you enough time to know if there are greasy fingerprint marks on your kitchen cabinets.
In conclusion, do not forget that your kitchen cabinet needs to be cleaned at least once a week. When this is done, you will be able to find out to know if there are greasy stains on the cabinet.