Linoleum is one product that has vibrant composition and performance. It has a composition of linseed oil, pine resin, and wood floor.
Linoleum is also popular in demand due to its durability and friendly nature. It can be found in many homes and organizations, as you can see today.
With proper maintenance and care, the linoleum floor will have the ability to withstand long years of use.
Linoleum also comes in different designs, and that is one of the reasons why they are widely used in most homes today.
Linoleum flooring has been known for its long lifespan, and it also comprises other benefits like its comfortability.
The flooring has the ability to offer perfect natural cushioning that provides a perfect blend of support to one's feet.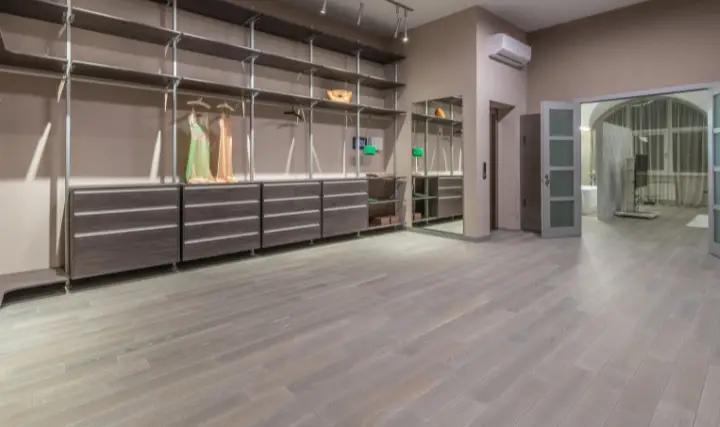 Other floor types, like ceramic and stone tiled floors, can be quite hard to walk on.
Thus, causing joint and foot pains. Also, the linoleum flooring is very durable, and this is because it was made through a manufacturing process that is distinct from others.
Which makes minor scratches even less visible on this thick material.
And even though they are visible, they can always be repaired through careful refinishing. The linoleum flooring is also water-resistant.
This is one of the reasons why most homes use this flooring type. Although excessive moisture can damage the Linoleum, it is very resistant to moisture that is not excess.
It is non-toxic and can be recycled if you wish to do away with it. It is, in fact, known as one of the eco-friendliest floor types in the market.
Methods to Clean Linoleum Floors
If you want a long lifespan for your linoleum flooring, then you must do all that is required to get the floor clean.
Take, for instance, you have just come back from a trip, and you need to deep clean your floor, or you haven't been cleaning your linoleum properly. The first thing you need to do is;
Get a microfiber mop and use it to remove all the dust and debris in the area that experiences high traffic.
Then every once in a week, try to get a soft-bristled broom or the attachment of a vacuum cleaner to remove all the debris.
Get a damp mop to clean the floor. Use a cleaning agent of one gallon of hot water and one cup of white vinegar, then add a few drops of dish soap.
Now use the mixture to clean your linoleum. After that, throw away the water and refill the bucket with clean water.
Mop the floor again using clean water and a damp mop.
Finally, allow the floor to dry thoroughly by moping again with a dry mop.
Method 1. To Deep Clean Your Linoleum Flooring.
A deep cleaner is often needed to remove any kind of dirt that has been embedded in the surface for too long.
So to restore the flooring back, the best way is for you to clean the linoleum floors yearly or twice a year.
This can be done by getting the following materials; get a vacuum cleaner, soft-bristled brush, mild liquid dish soap, bucket, hot water, baking soda, old dry cloth, and a microfiber mop.
To clean, you must;
Sweep the loose debris on the surface. Or you can vacuum if you wish.
Then you can sprinkle some baking soda on the floor. Ensure that you sprinkle well to cover all affected areas. If you do not have baking soda, you can use a cream of tartar or salt. But preferably, get baking soda.
Now mix a cup of vinegar and a few drops of liquid dish soap with one gallon of hot water until the mixture is soapy.
Mop the floor using the hot soapy mixture. You can also use the scrubbing brush to remove every stuck dirt and stubborn debris. Once the floor has been thoroughly mopped, pour away the water and replace it with clean, warm water.
Mop the floor with clean, warm water and white vinegar mixed in it so as to leave the floor cleaner and shinier.
Method 2
When last did you deep clean your linoleum flooring? If it's been more than a year, then you need to get a perfect natural cleaning agent to do the job thoroughly. Get a baking soda and form a paste with warm water.
Then when the paste has been fully formed, you can now use it to coat the stained floor. Then allow it to sit for about 2 to 5 minutes.
This part is essential because it will help the pasta to absorb the stain during the process. As soon as the period elapses, you should get a bristle brush and begin to scrub the pasty parts thoroughly.
You can get an old toothbrush to scrub the stained part thoroughly.
Ensure that the toothbrush you get is soft as well. After you are done scrubbing, get a dry mop, and some water, then mops the floor.
After this, throw the water away, and fill the bucket with another fresh water. Then get a dry mop, and mop the floor again so as to get rid of the bicarbonate of soda that remains on the surface.
Method 3. To Deep Clean Your Linoleum Floors
For you to deep clean your linoleum flooring, you can also follow this method if you are uncomfortable using bicarbonate of soda or if you don't have bicarbonate of soda available.
Get a mild liquid dish soap and pour some quantity into a bucket of warm water.
Using a dry mop, mop the floor with warm soapy water. If you still have stubborn stains on the floor, you can still mop the floor again using the same method.
Afterward, get a piece of dry cloth or towel, then spray the floor using a floor cleaner. Allow it to sit for a few minutes, about 30 minutes. Then mop the floor using a dry microfiber mop.
Finally, use a dry cloth to wipe the floor clean in order to get rid of the wetness. However, if the stain still persists, kindly get a stain removal product specifically designed for floors.
Pour it on the stained area, and then begin to scrub using a soft brush.
Finally, mop using a clean cloth.
Meanwhile, if you are using Vinyl Linoleum flooring, here is how you should clean; to deep clean this flooring type, get rid of any debris that may be lying on the floor surface.
Even if there is a stain on the floor that is hard to clean, try to get rid of it.
Afterward, get a cup of white vinegar into a large bucket and add a tablespoon of liquid dish soap. Mix and use a mop and a nylon scrub to clean the floor.
Now once you are done, pour away the water from the bucket and then fill it again with some warm water. Then use a dry mop, or squeeze out water from the previous mop and use it to clean the floor.
Once you are done using the mop, you can now use a soft dry cloth to remove any scrub marks or watermarks from the floor.
Method 4
To deep clean your linoleum floor, you can make use of the cleaning agent you have at home, such as your salt, to get your work done.
Get a bucket of warm water, pour in some generous amount of salt, then add a generous quantity of dish soap and get to work.
Meanwhile, sweep the floor clean first before you can now mop. After mopping, get a clean, dry cloth or dry mop to remove every excess water and the salt that remains on the floor.
Method 5
Even if you don't feel like using salt because it doesn't sit well with you, you can try this mixture. Get a lemon and cut it in half. Add lemon liquid to some small quantity of baking soda, and add white vinegar as well.
Mix well until it forms a paste. Now get warm water in a bucket, pour some amount of liquid dish soap, and mix well until it is soapy.
Now use the paste-like method on the floor by coating the stained parts mostly.
After coating the stained part, get vinegar into a spray can and spritz the floor, especially in heavy traffic areas. Allow mixture to sit for 30 to 45 minutes.
Afterward, spritz the floor again if it is dry, then begin to mop the floor. Mop using a dry microfiber mop.
Throw away the water after mopping and refill the bucket. Then mop the floor again so that there will be no debris remaining on the floor.
Conclusion
In conclusion, in deep cleaning the linoleum floor, you may begin to think that the baking soda may spoil the flooring, but it can't because the baking soda is not a harsh chemical.
However, in cleaning the floor, always remember not to leave excess water on the floor because linoleum flooring do not like excess moisture.