Philips brand has proven to be a trustworthy brand in terms of durable manufacture of quality products like the air fryer that you use at home.
Even though the product was produced with quality materials, there is a need for quality maintenance.
You need to learn how to carefully clean your air fryer, the air fryer pan, and the air fryer basket. In this article, we shall uncover the processes involved in cleaning a Philips air fryer basket. 
You must understand that the manufacturer's manual is extremely important in situations like this. If you don't have one, then kindly bear in mind that your Philips air fryer basket is dishwasher friendly.
It means that you do not have to scrub to get your desired result manually. However, the manual or hand washing process has been said to be the most assuring cleaning type for your equipment.
Such that even though it is dishwasher friendly, it is advisable to use the hand washing method.
Steps To Clean Philips Air Fryer Basket At Home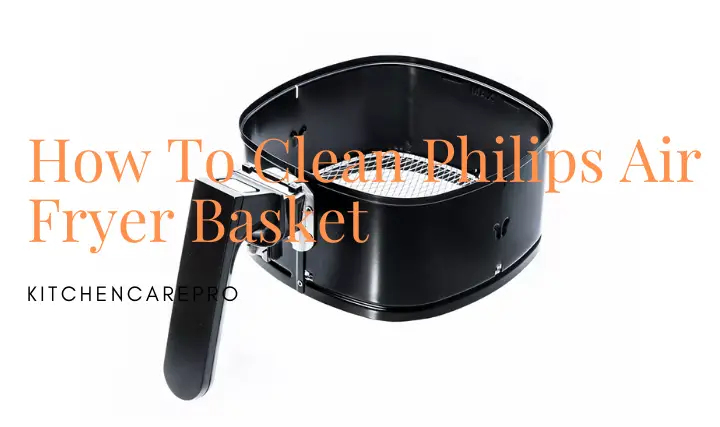 Dishwasher Method;
In this method of cleaning, the Philips air fryer is placed into a dishwasher to complete the cleaning process. So here is how to get it done;
Turn off your air fryer and allow it to cool completely.

 

Then take it out of the air fryer basket and run it under a tap to simply get it rinsed before the next step.
Rinsing the air fryer basket will help to remove the debris, dirt, and greasy residue, at least from the surface. Such that, if they were stuck formerly, they become unstuck due to the pressure from the water.

 

Ensure that your dishwasher uses mild dishwashing soap. Preferably, you may spray your air fryer basket with some dishwasher spray. Then place it in a safe compartment, and turn on the dishwasher.

 

Once the washing cycle has been fully completed, you may now take it out and inspect the air fryer basket for any issues.

 
What if there is too much grease on my air fryer basket?
How do you take off the greasy mess? Well, it's simple! There are some powerful decreases that you should get for moments like this.
Even after placing it in the dishwasher, your air fryer basket comes out greasy and unclean, kindly spray your degreaser, and allow oyg to sit for 10 to 15 minutes.
Degreasers work pretty fast. Then prepare a bowl of water (room temperature if you want) then, add some squirts of dishwashing soap, and place the basket in it.
Let it sit for 10 minutes. After that, grab a soft sponge and foam, then gradually wash your air fryer basket, scrubbing the sides and the tiny holes with care. 
Once you are done, you can rinse off the basket with some warm water and leave it to dry.
How do you hand wash your Philips air fryer basket?
Hand washing your kitchen equipment isn't a big deal. And it's not a stressful thing either. You will need; a soft sponge, dish soap, vinegar, liquid lemon (optional), and a degreaser.
Create a warm water solution mixed with liquid soap, then add a few ounces of vinegar. Then place your basket in it.
Allow your Philips air fryer basket to soak for 10 minutes or even more. It all depends on the type of dirt and residue you have in your basket.

 

Next, grab your soft sponge and scrub.

 

After scrubbing, grab your old toothbrush to scrub the tiny basket holes carefully. These holes are responsible for trapping residues, oily mess, and dirt, so you need to concentrate on cleaning them properly because the sponge may not be as detailed as the toothbrush.

 

After cleaning with the toothbrush, you may now rinse the air fryer basket with warm water mixed with liquid lemon. The effect of this lemon is that it helps to give the air fryer basket the fragrance it needs instead of the usual dull odor.

 

Then you can now dry it with a paper towel.

 

Meanwhile, if your Philips air fryer basket is too greasy even after washing, you can spray some degreaser on it and allow it to sit for some minutes before washing it with soap and water again.
Can you wash the Philips air fryer basket with Muriatic acid?
Of course, you can't. Cleaning your Philips air fryer basket with muriatic acid is not one of the proven processes to follow in order to clean up your basket. In fact, cleaning your air fryer basket doesn't require a rigorous process.
Muriatic acid, even though it can be used for household cleaning, cannot be used to clean your kitchen equipment like your air fryer. This is because your Philips air fryer wasn't designed to be washed with strong/harsh chemicals.
Besides, muriatic acid is regarded as a highly corrosive chemical, and as such, it can not be used for such delicate devices. Instead, make use of cheaper alternatives as provided above.
Can you clean the Philips air fryer basket with Bleach?
If you can't use muriatic acid, then you can't also use bleach, not because it is harmful but because it shouldn't be handled by bleach. Bleach automatically brightens or transforms the appearance of anything.
So even if you use your household bleach for your Philips air fryer basket, be sure to get a bleached air fryer basket as soon as you are done with washing.
So, instead, use the mild products above to get your air fryer basket in a perfectly clean state.
Final Thoughts
Your Philips air fryer basket should be treated with utmost care and should be maintained properly. Not every washing tool should be used on your air fryer basket.
This is because of the delicacy of the material used in coating your air fryer basket. Especially if the Phillips brand of air fryer basket you've got has a nonstick coating.
Be also careful not to use abrasive cleaning agents like chemicals and other items.
Keep chemicals away from your air fryer basket no matter the residue you have stuck on your basket. Simply use the normal hand-washing process or the dishwasher process.