From your steaming food to the tea/ketchup stains and the sticky sugar and greasy mess that drips over your oven, it shows that these things are inevitable.
Your oven will be a platform for spills and splatters. And when it comes to cleaning the oven, you may do it the right way or not.
But in cleaning this heavy appliance, you do not need to spend money on a wide range of cleaning products.
All you need to do is to make your oven appealing, clean, and sparkling again. However, only two ingredients can do this trick for you: baking soda and vinegar.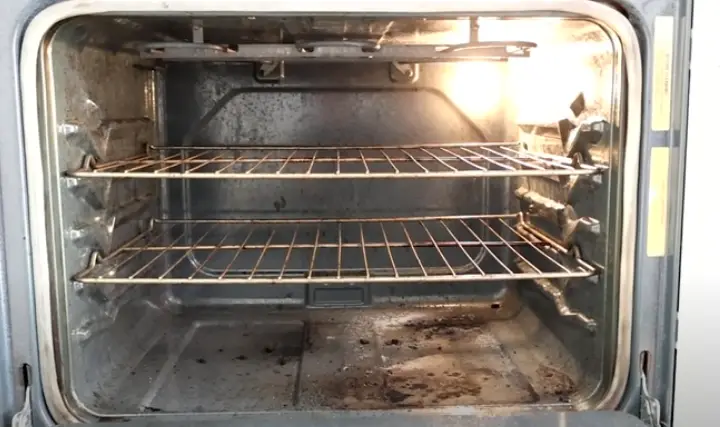 These ingredients are great because they are generally referred to as natural cleaning agents.
Especially when you don't have enough money to get those oven cleaners, or you do not feel like using them because you feel like they aren't natural enough, you can opt for these natural cleansers.
The two ingredients are both toxic-free, and they are safe to use around.
You don't have to hide them for safety because they can be used almost everywhere. On your countertops, even food surfaces, etc., baking soda and white vinegar are used in cake mixtures, especially red velvet.
How to Clean a Greasy Oven
The reason why they are used or termed as natural cleaning agents is that baking soda is a natural alkaline product while vinegar has natural acidic content, which works perfectly together when combined with the baking soda to lift a greasy mess.
So even stubborn stains and the greasy mess will be at the mercy of the baking soda and vinegar solution when used.
Meanwhile, if you have a greasy glass oven, you can pour some little quantity of tea tree oil. This oil will act as a natural degreaser when added to water and white vinegar.
Method 1. How To Clean Your Greasy Oven.
Get a baking soda and pour some quantity into some warm water; ensure you measure the quantity you are using because a large oven often requires more paste.
However, if you are using any essential oil, you can drop about two drops.
Next, clean the oven racks. You should always take out your oven racks whenever you want to wash your oven.
Take out the oven racks and then soak them in warm soapy water for a few minutes; after that, scrub with a scouring pad, rinse with warm water and dry well with a dry cloth.
However, if the racks are heavy with grease, and grime dirt, apply the baking soda and water paste.
Now use this on the stainless steel racks only because if your racks are aluminum, the baking soda can discolor an aluminum rack.
So, to clean your greasy oven, you can fill these openings in the oven with foil. Now use any paintbrush or toothbrush to spread the paste all around the interior of your oven.
Meanwhile, do not use rub the paste on metal surfaces and even the oven door.
In order to get into tight corners and tough spots, you can use an old toothbrush and then leave it there overnight.
The following day, remove the paste using a plastic scraper, if the paste is dry, keep wetting it with water and then wipe it with a damp cloth; keep repeating all these to remove every streak.
Method 2
You can get an oven degreaser to do the job for you. Here is how to do it;
Ensure that your oven is cool and remove every excess dirt. You can get them out of the way by using a paper towel or an old cloth.
Remove every food particle, burnt food, and greasy mess from the base of your oven.
Wipe these bits straight into a dustpan. Just make sure your oven is cool before you remove all the excess dirt. Now get the racks away by taking them out.
So set your oven degreaser aside, and ensure that you also keep the baking soda aside because it can come in handy.
Wear rubber gloves if you can. Apply the degreaser on the interior of the oven, and sprinkle some quantity of baking soda on it.
Once you are done, allow it to sit for a few hours. After this, get a damp sponge or damp cloth and use it to wipe the interior. Once you are done, soak the racks in warm soapy water for a few minutes.
After they are well soaked, get a soft sponge and begin to scrub lightly against the rack.
Afterward, sprinkle some quantity of baking soda on them and allow them to sit for 30 minutes. Then bring it out and scrub it again.
Finally, rinse with warm water to remove the baking soda residue.
You can also use dryer sheets to remove the greasy mess on your racks. Just place a few sheets in a bath together with your oven racks.
Or you can get a bag and put the racks in it together with the dryer sheet, then tie it with a rope.
These dryer sheets will soak in the grease. If you don't have a bath or bag, you can put the rack and dryer sheet into the dishwasher.
By the time you leave the oven racks overnight, the following day, they should be clean. Get them out and rinse them with warm water and dry them completely. You should have a clean and grease-free oven.
How to Clean your Greasy Oven Window
To clean your oven glass, get your baking soda and water mixture and mix it to form a paste. Then use, apply it inside our oven window using your hand to spread the paste-like solution.
Then allow it to sit for about half an hour, and then after that, use a damp cloth to wipe the oven window. Or you can use a dishwasher tablet.
Without even removing the coating, put the dishwasher tablet in some warm water.
Then rub it all against the glass of the oven door and keep putting it in water every now and then to keep it wet. This will easily break down the greasy grime.
Or you can leave the paste on the oven window to sit overnight. And then, when it is time to remove the paste, get a rubber spatula to do the job for you.
After that, get a spray bottle of vinegar and spray it all over the oven window.
Then get a damp cloth again, and wipe all the way out. Wipe the racks as well and put them back into the oven. This last part is for the oven to remain shiny after scrubbing.
How to Clean the Greasy Oven Stove Top
You cannot clean your greasy oven and overlook your oven stovetop except if your oven doesn't have a stovetop.
If you don't clean the oven stove top, the baked-on grease can affect the oven. So get some key natural ingredients like you're a tablespoon of salt, a tablespoon of baking soda, and a tablespoon of water.
Mix all of this into a pasty mixture, and apply on the stovetop. Allow it to sit for a few minutes, then get a damp cloth or a damp sponge and wipe the stovetop.
How to Keep Your Greasy Oven Clean Regularly
Cleaning your oven can be much easier if you are quick to maintain it regularly instead of piling the baked-on grease to the detriment of the oven. So here is what to do;
You can decide to ask your friends or family members to help you in the cleaning-up process if it is too tedious for you. That way, when you rotate the cleaning among your loved ones, you will not have too much baked-on grease in your oven.
Get an oven liner. Always line your oven with some of these heavy-duty liners. This will help to collect any food particles and residues that will drop out of the oven while using the oven or grill. When it is time to clean your oven, you can take the oven liners out and put them in the dishwasher to get them cleaned.
Asides from your roasting rack, always use another roasting tray. This is a very great oven-cleaning tip. So if you've got a spare tray, you should use it. Put it beneath the roasting rack so that it can collect any liquid, flying grease, and food particles that may drop at the end of your baking roasting spree.
When you want to bake or do any other thing in the oven, do not over-fill your baking pan or baking trays right to the top. Because you may just have some of these foods pouring down right to the bottom of the oven and causing a mess down there, so do not overfill your cake pans and casserole dish.
You can get a steam cleaner if you have one, to once in a while, steam cleans the exterior part of your oven. This steaming helps to get rid of harmful bacteria that may find their way into the oven and into the food you are cooking. You only have to wait for two minutes to get the steamer to heat up, and then you can release the steam in the oven.
When you put your baking pans or tray into the oven, you can also try to cover the pan with a lid. This will help prevent food splattering and grease from flying around and getting the oven all dirty.
How Often Should You Clean Your Oven?
It is best to clean your oven once every two to three weeks, that is, if you do not have numerous work to do during the week.
And you can decide to use the self-cleaning function to get the greasy oven all cleaned up.
It will be an even easier and quicker way to clean your oven. So think of cleaning your greasy oven as less of a chore because your greasy oven needs to be cleaned, and cleaning it regularly will help in keeping it more durable.
Frequently Asked Questions
What is the best method to clean an oven?
One of the best ways to clean your greasy oven is by using the baking soda method. The baking soda method is natural and affordable. So you can decide to give it a try if you want.
How can you clean the interior part of your oven?
If you don't want to use baking soda to clean the inside of your oven, then you can get a cleaning paste from the store or an oven cleaner/degreaser. This will really work well for your greasy oven.
Is baking soda going to affect my oven?
Baking soda can never affect your oven if you apply it using the methods outlined above.
The reason why baking soda is safe for cleaning the oven is that it is non-toxic as compared to other chemicals that are toxic in nature.
The baking soda is not harsh or abrasive.
Conclusion
In conclusion, we will suggest that you use baking soda, white vinegar, or even oven degreasers to get your oven cleaned. Having a greasy oven is not something you can avoid.
However, having a dirty, greasy oven is something that you can handle.
When you don't clean your oven rightly and timely, you tend to get dirt into the food being cooked, and that is why you have people fall sick these days because one or more of their kitchen appliances needs their attention.
Your greasy oven needs your attention today. So do well to get it cleaned up using the right cleaning agents and the right scouring tools so that you don't end up damaging your oven.
If you aren't comfortable about using any of the methods above for your greasy oven, kindly get your oven manual and read through it so you can have an idea of how the manufacturer wants the oven to be cleaned.