The Ge brand is also an amazing brand that has gained a name for its quality in all kinds of products ranging from the dryer to refrigerators and now to an electric stoves.
The Ge electric stove is quite easy to work with because it is just like your everyday electric stove top.
Now, maintaining any appliance at all can be quite tedious, but if you get to know the few tips involved, then there would be no issues at all.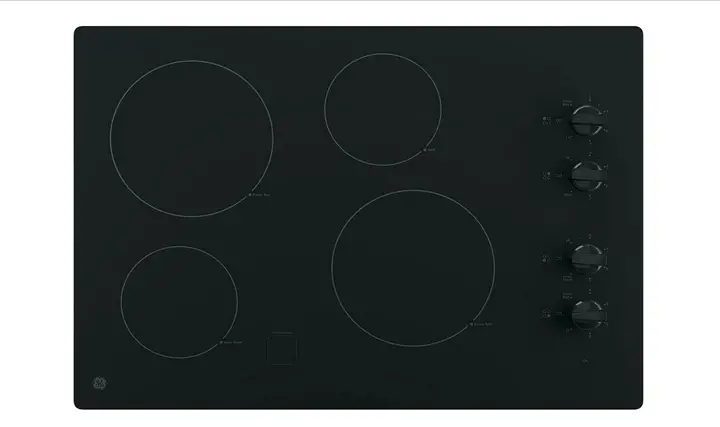 Why does the Ge electric stove top get dirty?
Okay, first off, you need to know that every single appliance always gets dirty and requires constant cleaning.
And your Ge electric stove top isn't left behind. Your electric stovetop will always get dirty because you cook regularly.
You cannot be using your stove for cooking and then expect some kind of miracle that it doesn't get dirty afterward.
These are things that are bound to happen in the kitchen. And as a homemaker, you must get yourself braced up for such dirty sites.
So your Ge electric stove top is messy and full of grime and all sort of spills because that is our work area.
You get to cook some soup, make some food, pasta for dinner, boil water for tea, and your stovetop gets all the dirty spills.
That is why your electric stove top gets all dirty. And once it's dirty, that means it needs a hot bath! Meaning it needs to be thoroughly cleaned.
How often should you clean your Ge electric stove top
You are worried about your damaging the parts of your electric stove top just in case you clean regularly.
But the truth is, as long as you are careful with handling the stove parts, then you can worry less about getting them damaged.
It is advisable for you to get your Ge electric stove top cleaned regularly.
Do not leave them dirty all week, expecting the stove top to self-clean.
The Ge electric stove top wasn't designed to be self-cleaned like some ovens.
It needs the homemaker, which is you, to get it cleaned regularly.
You can clean the stove top after dinner just before you go to bed. Or you can get it cleaned twice a week.
But just in case you are too busy to get it cleaned regularly or twice a week, you can get it cleaned at least once a week, that is, four times a month.
Cleaning the Ge electric stove top every week on Saturdays won't hurt. In fact, it wouldn't take much of your time.
All you need to do is get your cleaning tools ready and get them all cleaned up in an hour.
Tools you need for cleaning…
Glass stove polish
Glass cooktop spray
Scrapper
Baking soda
Lemon juice
Mild liquid dish soap
Scouring foam
Magic cleaner
Paper towel/microfiber kitchen towel
For Light Stains…
Turn off the electric stovetop and allow it to cool. This is because the stains on your stovetop is light and not tough. Grab your glass cooktop spray and set it aside.
Next, grab your dry kitchen towel and dust the surface of the stovetop to get rid of dirt.
After that, spray the stovetop with the glass cooktop spray until the entire surface has been covered with the spray.
Just in case your Ge electric stove top has detachable burner tops and grates, then you can spray them as well. After that, soak the scouring foam with water and some squirts of dish soap.
After 10 minutes, begin to scrub the stove top with the foam as gently as you can.
Once the dirt is all out, you can now clean with a dry kitchen towel and paper towel.
After they are all clean, now take out your glass polish spray, and spray the stovetop since it is made of glass.
For tough stains…
Tough stains are inevitable. So what you will do is, turn off the electric stove and allow it to be warm, not totally cool.
Then sprinkle the electric stove with some baking soda, lemon juice, and some mild liquid dish soap.
Do not sprinkle with concentrated or carbonated lemon juice.
Instead, sprinkle with fresh lemon juice. You can extract this yourself if you have the fruit. One lemon will do.
Next, allow the mixture to sit for about twenty minutes.
Next, soak the grates and burner tops in case you have grates and burner tops. Soak them in a bowl of warm soapy water and leave them for a while.
Next, grab your scrapper, rinse with water, and begin to scrub the surface of the stovetop until all the dirt is out.
Next, wipe the surface clean with a paper towel until it is sparkling clean. You will observe that your stove top now has a fresh lemon fragrance instead of the burnt, stale, and smoky fragrance it used to have.
The lemon juice gives it a nice fragrance and a nice clean as well.
Now, take out the grates and burner top and begin to scrub them with the scrubbing foam. Do not use steel foam to scrub them. Rinse when the dirt is out, and towel dry.
You can use Magic cleaner if…
If you have had a tough stain that has caused some kind of discoloration on your stovetop, then you can use the magic cleaner.
Spray it on the affected surface and allow it to sit for ten minutes, or read the instruction behind the magic cleaner and use it as instructed.
Spray, then scrub off using a scraper or a soft sponge. You will notice that the once brownish, discolored area has now returned back to its original state of how it should be.
Conclusion
Finally, there are certain cleaning agents that you cannot use to clean your Ge electric stove.
Cleaning agents such as ammonia are dangerous.
You can't also use bleach in place of magic cleaner. Bleach has a strong odor that may be too strong even after use.
Besides, it is not hygienic to be used on such work areas as your stovetop.