The Bella air fryer is a popular brand and quite in use amongst many homemakers.
However, the question of how the Bella air fryer parts are washed is being questioned because of the sensitivity of the air fryer.
How can you get the Bella air fryer basket and pan cleaned? In this article, we shall make you understand how you can clean your Bella air fryer basket without any stress.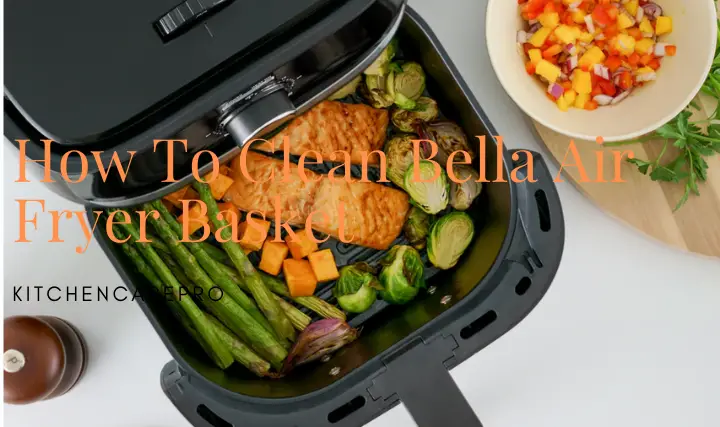 Is the Bella Air Fryer Basket Dishwasher Safe?
Of course, it is dishwasher safe. However, it is mostly recommended by the manufacturer to make use of the hand washing method instead.
Because placing it into the dishwasher does not mean that your air fryer basket is going to be well-cleaned.
There may be some parts that won't be entirely clean. Since it is a basket, and the insides are perforated, getting it all cleaned using this dishwashing method may be a bit difficult. 
But if you insist on cleaning your Bella air fryer basket in the dishwasher, then place it in the dishwasher at the top compartment like other kitchen dishes.
Then turn on the dishwasher to get to work. Dry the air fryer basket immediately after it is rinsed.
What are some of the tips to consider before cleaning a Bella air fryer basket?
Always clean the inside of your Bella air fryer basket using a paper towel. At least, this should help to take care of the residue and greasy mess that are easy to peel off from the basket.

 

Do not use steel wools, scrapper knives, and any metal to remove hard buildup. You can also avoid using bleach or hard chemicals in place of liquid soap. These abrasive chemicals will only harm the Bella air fryer basket.
Always unplug and allow the air fryer to cool. Sometimes, the cooling process may take about an hour or more for it to be entirely cool.
How To Clean Bella Air Fryer Basket Step By Step
Using Vinegar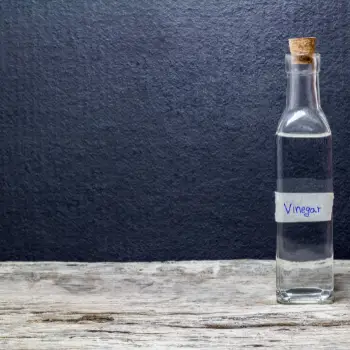 There are different kinds of vinegar. There is apple cider vinegar which can also be used to clean this air fryer basket, although it depends.
You can also make use of the white vinegar that bakers use today for baking.
If you are using white vinegar, kindly mix white vinegar with a small quantity of water.
Before pouring it into the Bella air fryer basket, you must first observe to know where the basket currently sits.
If it's in the sink, remove it and place your air fryer basket in a bowl where it can handle the mixture and hold the basket still.
Allow the air fryer basket to soak for about 10 minutes; then you, bring it out in the vinegar mixture. Wash in soapy water and rinse under the kitchen tap. Dry well with a soft cloth.
Using Baking Soda
Cleaning with baking soda isn't such big trouble. All you need to do is to follow the method correctly.
After soaking your Bella air fryer basket, rub a generous amount of liquid soap on the basket and then sprinkle it with baking soda.
After that, allow it to sit for 10 minutes, then grab an old toothbrush to scrub the basket gently.
Scrub until all the gunk is out. As soon as it is out, you can now rinse the air fryer basket with warm water and dry it with a soft kitchen cloth.
Overheating Method
You can use the overheating method. In this method, you won't turn off your air fryer from the power socket. It will be left turned on with nothing in the air fryer.
This method is usually used for ovens with the self-clean function.
But since your air fryer has no self-clean function, turn on the socket and leave it to heat up for about 3-5 minutes. Then turn it off. Kindly wear some rubber gloves for this part.
When you are fully gloved, detach the Bella air fryer basket from the main air fryer, and separate it from the pan.
Once this has been successfully done, get your soft sponge and wet it with some soap, then begin to scrub the air fryer basket.
If you have a toothbrush, preferably an old one, then you can use it. Scrub with a toothbrush until all the stubborn residue is out.
Dust the food particles and residue away and rinse the basket. Then was the air fryer basket again with warm soapy water.
You will notice that there are no more residues in the basket. Now you can rinse the basket and dry it.
What happens if your Bella air fryer basket still emits odor after cleaning?
This always happens when the air fryer basket has been left for several weeks without cleaning the air fryer basket. The buildup residue dissolves into the basket and begins to spread a nasty odor in this compartment.
Such that when the air fryer basket is cleaned, it will still have that gunky odor. What do you do?
The best thing is to re-wash your Bella air fryer basket with Gain dish spray. This dish soap has a naturally scented fragrance.
So get one and rub it into the air fryer basket. Then, allow it to sit for about 10 minutes, rinse after 10 minutes under cool water, then allow it to air dry naturally before putting it into the air fryer.
Final Thoughts
Bella air fryer basket, just like every other air fryer basket brand, requires that you handle it with care so that the basket doesn't wear out too quickly. Meanwhile, don't think that you can scrape the outer part of the Bella air fryer basket.
Always treat the outer part the way the inner compartment is so that it doesn't get worn out too quickly.
So, if your Bella air fryer basket is burdened with stubborn greasy residue and food particles, then you don't need to trash it because it can still be as good as new again!
Get to work, pick any of the cleaning methods above, and work towards renewing your air fryer basket!