Black stove tops are great! However, they do a great job of hiding grime, greasy mess, and dirt stains on your stovetop, which is unhygienic.
It is very easy for food residues and a greasy mess to go there unnoticed, and it may take quite some time before you realize that your stovetop is rich with a baked-on greasy mess.
So now that you have discovered that your black stove top is dirty, how do you clean it?
Over time, you must have seen different methods of cleaning the black stove top without scratching it.
They would say; to remove the grates and burner top, soak the grates in warm/hot soapy water in your kitchen sink, then sprinkle baking soda on it.
Scrub the baking soda lightly on the stove top, then spray the stove top with white vinegar. Then wait for 10 minutes to absorb the stains. After that, wipe the stove with a microfiber cloth.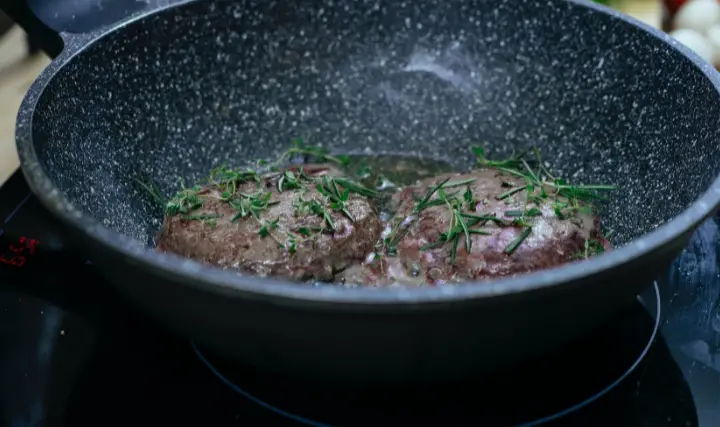 This has, over the years, been the method of cleaning your black stovetop. However, there are other methods.
And although the white vinegar and the baking soda work well, you need to be extra cautious if you are cleaning glass or a ceramic stovetop using this method because baking soda, even though it cleans well, also leaves scratches if not used properly.
So for the glass stovetops, if you are still uncomfortable using baking soda, you can use liquid dish soap and water.
What do you need to Clean your Black Stovetop?
In this first method, you need a soft sponge, white vinegar, a microfiber cloth, and baking soda.
Using the baking soda method, first, get a spray can and put your white vinegar in it, and set it aside.
Afterward, make a solution of water and a few tablespoons of baking soda. Make sure that it has been formed into a paste and spread it over the black stovetop after you must have removed the grates and soaked them in water.
But you don't have to mix the baking soda with water. You can sprinkle the baking soda on the stovetop directly.
Then begin to scrub the baking soda using the soft sponge. Scrub the baking soda directly on the tough stains.
However, while scrubbing, apply less pressure on your hand so that you scrub lightly. Then, spray the white vinegar on the stovetop then allow the chemicals to sit for a few minutes.
After a few minutes, about three minutes, get a soft sponge or a soft microfiber towel and begin to wipe down your stove with it.
By the time you are done wiping, your black stove top will be good as new! Get another damp microfiber towel and wipe the black stove top with it.
This is done so as to remove any baking soda residue on the stovetop.
Baking soda and white vinegar have been considered as the most reliable methods of tackling your greasy mess and giving you a sparkling finish!
The baking soda and vinegar method is quite easy to use and easy to access.
Even though you cannot access them, they are quite affordable. Plus, they are one of the best natural cleaning agents you can ever think of.
How to Clean a Black Electric Stovetop?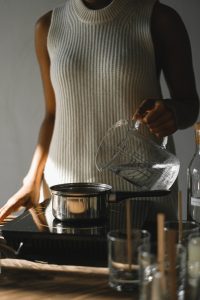 The black electric stovetops are even more delicate than the ones you know.
This is because they are closer to heating coils, and since it is basically electric appliance, they are prone to more damage.
So to clean your black electric stovetop, you need to remove the heating coils, then prepare a spray solution of white vinegar, or you can get a degreaser, preferably.
That is if you do not want to go through the rigorous process of turning your white vinegar into an empty spray can. So spray the black stovetop with the degreaser.
This degreaser cuts through any greasy mess within minutes.
Due to the toughness of the stains on your stovetop, allow the degreaser to sit for 30 minutes. Afterward, get a dry microfiber cloth and wipe the stove top clean.
Afterward, get a spray can that has vinegar and water in it, and spray your stovetop. This is done to give the top of your stove a bright and beautiful polish.
How to Clean your Gas Black Stovetop Grates?
There are so many ways that you can clean your black gas stove grates. To do this, you need to remove the stove grate and soak them in a mixture of hot soapy water.
Then spray your grates using a multipurpose cleaner, and wash using a soft sponge.
After that, spray the white vinegar and water solution and keep them in your oven and run the self-cleaning feature. Better still, after spraying your grates, you can get a dry microfiber cloth and dry the grates thoroughly.
If you do not want to follow the above method of cleaning the grates, you can soak the stovetop grates in a bag with two cups of ammonia.
And then allow the fumes from the ammonia to break down the grease overnight.
After which, you release it the following day, soak the grates back into soapy water for a few minutes, remove the grates, and dry them using a dry microfiber cloth.
How to Clean your Black Glass Stovetop?
Cleaning your black gas stovetops requires extra care. The black glass stovetop is highly sensitive. Thus, you need an ample amount of patience to get it all cleaned up.
You need to mix baking soda and water together to form a paste.
Then add vinegar to this paste. This kind of cleaning solution is called the power paste because it will eventually break and cut through every tough greasy stain.
Do not use an abrasive sponge because during the course of scrubbing, the sponge may create scratches on the stovetop, and this will destroy the black coating.
So avoid scrubbing. Just allow the baking soda, water, and vinegar mixture to sit for several minutes because the longer it sits, the better for the stovetop because the mixture will absorb the greasy stains.
Meanwhile, if you are worried that baking soda will scratch the surface of your stovetop, you can simply use liquid dish soap and water, or you can use a glass stovetop cleaner to get the job done for you.
Be careful with what you decide to use on your black glass stove top so that it doesn't produce long-term scratches.
Finally, get a microfiber cloth to wipe off the baking soda residue that will remain on your stovetop after you must have cleaned it.
How to clean your Black Stovetop Burner?
You can clean your black stovetop burners using different methods. All you need is a thorough surface clean.
Simply get a glass cleaner and spray your burners with it, or get a dry microfiber cloth and dip it into a bowl of white vinegar, then use it to wipe the burner.
However, to get a more thorough cleaning for your black stovetop burner, you can try sprinkling the black stovetop with baking soda.
Allow the baking soda to stay on the burner for about 5-10 minutes. After that, spray the burners with vinegar and let them sit for a few minutes.
Once the few minutes are over, wipe the burner with a damp cloth.
Frequently Asked Questions
What is the best cleaning agent for a black stovetop?
The best cleaner you can use to clean the baked-on grease from your glass stovetop is the white vinegar and baking soda solution, or you can get a cooktop cleaner kit to get the job done.
The cooktop cleaner kit from any brand is a product designed specifically for glass stoves. And they are also effective.
How do you clean your black stove top without streaks?
It is best for you to get a streak-free stove top cleaner. That is if you still have streaks. Spray the cleaner on the stovetop for at least 30 minutes so that the chemical can soften the streaked grime before wiping them clean.
How can you get water stains off your black stovetop?
Water stains are inevitable. However, water stains may be tough and even hard to clean off from your stovetop.
So rather than scrubbing for several minutes without any result, just get some quantity of baking soda, mix it with white vinegar, then spread it over the stained area.
Wait at least 30 minutes; then, you can wipe it off with ease. If there are tougher stains, then repeat using this process.
Do you recommend using Easy-Off on a black stovetop?
Using this cleaning agent and strong degreaser can help your black stovetop. It will help clean your gas/electric black stovetop.
Spray the degreaser on the stovetop and allow it to sit for a few minutes. Afterward, wipe clean using a dry microfiber cloth.
What are some of the best ways to clean black appliances asides from the black stovetop?
Get a quality kitchen degreaser. So for your stovetops, you can try using the white vinegar and baking soda solution or white vinegar.
Spray on the black appliances and wait for 10 minutes before wiping the surface clean.
Can you clean a black stove with bleach?
Do not ever use bleach to clean your black stovetop. Bleach is regarded as an abrasive chemical that will not hesitate to damage your black stovetop.
So you are better off using a non-abrasive cleaning agent like; baking soda, vinegar, or ammonia.
How do you keep your black stove top shiny and beautiful?
For you to have a shiny, polished, and beautiful black stovetop, ensure that you keep it clean.
Dedicate your weekends to thorough cleaning and ensure that they are in good condition.
Then after cleaning your stovetop, always dip your kitchen towel into some vinegar, and polish the stovetop with it. This one will give the stovetop a sparkling finish!
You can also check a stainless steel cleaner to help get the job for you. Apply the cleaner to a microfiber cloth and give the stovetop a smooth finish.
What is the best cleaner for black appliances?
Your material is very important, although stainless steel is quite common. However, you can try using a stove paste or a cleaner that acts as a polish, among other products.
Can you use an iron spoon to remove stubborn stains from your stovetop?
No, you can't. You should avoid using metal or any sharp utensils to scrape off food residues from the stovetop because it will create scratches that will end up spoiling the black coating on the stovetop, thereby exposing the stovetop to more hazards.
Instead of using a metal or sharp utensil, use a plastic spoon or laden.
Anything that is not sharp enough to remove the food residues from your stovetop.
Conclusion
In conclusion, cleaning the baked-on grease from your black stove top is no difficult task. However, it can become a difficult task when you don't do it the right way.
That is when you do not follow the normal method for cleaning the greasy mess.
Ensure that you are friendly with the scrubbing. That is, you should apply less pressure while scrubbing your black stove top so as to avoid scratches.
The black stove top gives your kitchen a designer's touch and an appealing look.
And if you must maintain the interest of your visitors in your home, and have them eat your food, then you must avoid baked-on grease on your black stove top at all costs by doing all you can to keep them clean and free from grime and greasy mess.