After a day's cooking filled with steaks, fries, roasts, fried streaked chicken, fish, etc., all of this bacon, roast, and all will definitely pass through your air fryer.
And since your Power xl air fryer is capable of frying to a golden brown, the air fryer basket would be in trouble because of the serious cooking exercise.
And so there will be oil spills, food spills, and greasy build-up if not cleaned immediately.
In this article, we shall focus fully on how to clean your air fryer basket power xl.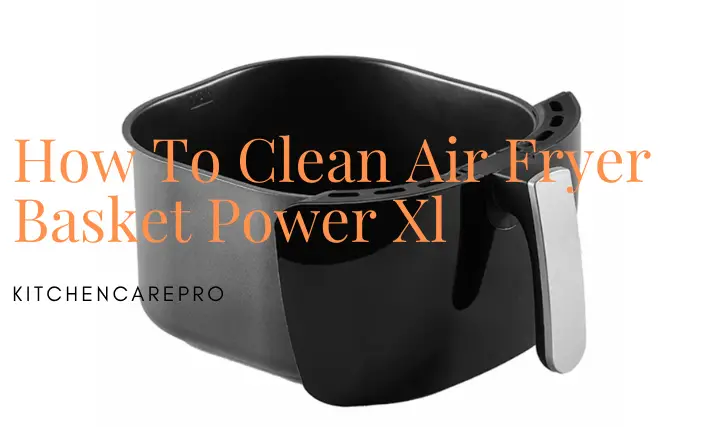 What do you need to know about a power xl air fryer?
Nothing much asides from its uniqueness. The power xl air fryer does an amazing job of surrounding your food with air instead of oil.
That means your meals are cooked in superheated air instead of oil. Food in the air fryer can easily be cooked with little or no oil, and the taste would remain the same.
However, since some food can be cooked without oil in this air fryer brand, it means that the amount of food debris and residue that will be accumulated in the air fryer would be much.
Even if the air fryer basket is coated with nonstick, food debris would still be stuck on it, except if aluminum foil or air fryer liners are used.
Is Power XL Air Fryer Basket Dishwasher safe?
Your air fryer basket power xl brand is dishwasher safe. Although the other parts of this air fryer brand, like the base and the entire body, including the heating element, are not dishwasher safe.
Although they can be cleaned by hand using a soft sponge to dust off any hanging food particles.
But the Power xl air flyer racks, stainless skewers, and basket are dishwasher safe!
It was also recommended by the brand that your air fryer should be cleaned by using a small amount of non-abrasive dish soap and a soft sponge.
The single should not be metallic because of the air fryer basket's nonstick coat. 
To wash your Power xl air fryer basket in the dishwasher, simply use mild soap and then put it in the dishwasher like other dishes.
As soon as the washing season is over, you can get the basket out and get it rinsed beneath the faucet. Then dry completely with a soft cloth.
How Do You Clean Your Power Xl Air Fryer Basket
Method 1: Using Dawn Dish Soap?
Dawn dish soap is usually recommended to most homeowners because of its mild texture. It can be gotten from the grocery store closest to you.
Or you can order from any online store. Once this has been achieved, make a solution of dish soap and warm water. Then soak the air fryer basket in it.
Do not soak it in the water for too long otherwise; it may have an effect on the material it was made with. 
Soak your Power xl air fryer basket for about 15 minutes.
After that, you can get a soft sponge to scrub out the debris. Even if the stubborn debris doesn't come out, still apply the Dawn dish soap again.
Then rinse thoroughly under the faucet. Ensure that you dry the air fryer basket with a soft cloth so that the basket doesn't get damaged.
Do not dry under the sun. The sun rays can be too much for their fryer basket. You should leave it under the shade so that you don't get a contrary result.
You can leave it on your counter to air dry, or you simply dry it with a soft cloth. 
Method 2: Can you use lemon-scented detergent to clean your power xl air fryer basket?
Lemon-scented detergents most times are a bit acidic, which makes them a bit too harsh to be surface cleaner to smooth surfaces or surfaces that are sensitive.
It is better to make the lemon cleaner in a mild way and mix it with your Dawn liquid soap to get the desired result. 
Meanwhile, if you want to make a lemon-scented detergent to clean your air fryer basket, here is what you should do;
You will need the following;
Fresh Lemon (1 or 2) Or lemon liquid
Warm water

 

Dawn liquid dish soap
Now that you have the ingredients available, here is what you should do;
Prepare a jar or spray bottle. If you don't have any, then you can make use of an empty bowl.

 

Meanwhile, slice your lemon into two halves and place it in a pot of boiling water.
When the water has been brought to a boil, pour the water into the bowl and add Dawn liquid soap. Mix well until the water is soapy.

 

Now soak the air fryer basket in the soapy water and allow it to sit for 20 minutes. As soon as this is done, you can now pick up a soft scrubber to scrub the air fryer basket. Scrub thoroughly until the debris is out.
Then rinse beneath the kitchen tap and dry.
Method 3: Can you use Baking soda to clean the Power xl air fryer basket?
Yes, you can. However, it depends on how you use it. Simply coat the basket with your Dawn dish soap and sprinkle some baking soda on it.
After sprinkling, you should set it aside and wait for at least 20 minutes so that the baking soda can absorb the tough residue and break through the greasy mess.
After 20 minutes, get a soft scrubber to scrub off the dirt, then rinse thoroughly with warm water.
This will help to get the remaining baking soda out in no time. Then dry with a soft cloth and store in the air fryer.
Final Thoughts
Just in case your Power xl air fryer basket still has an unsettling odor even after cleaning, this is what you should do; after putting the air fryer basket in the air fryer, turn on the power socket and let the air fryer pre-heat for 5 minutes.
After preheating, you can turn off the power socket. Then leave the air fryer to cool.
As soon as this is done, you can now open the air fryer to see if you will perceive any foul odor. You will notice that the air fryer basket no longer has the odor.