Calphalon is one of the leading non-stick cookware brands in America.
It is made up of hard-anodized aluminum coating, giving the perfect non-stick surfaces for which it is most famous.
It is loved by a lot of home cooks as its none stick feature makes cooking easy and fun.
There are a lot of varieties of this cookware available such as pans, pots, etc., giving the chefs options to choose the best-suited cookware for their cooking.
Cooking with non-stick utensils is easier when it is dishwasher-safe. It makes your task much easier, and in addition to this, you can cook with less oil making your food healthier and more reasonable.
Despite Calphalon being the best non-stick cookware, the question which keeps arising is – are they dishwasher safe? Well, the answer is right here; keep reading to clear your doubts regarding this question.
How Safe is Calphalon Pans in the Dishwasher?
The hard anodized coating of the Calphalon adds a non-stick feature to the cookware. The heat in the pan is proportionate, which results in the uniform cooking of your food.
The anodized aluminum coating of cookware is not the same as Teflon. When you put that cookware in the dishwasher, it may result in the discoloration of the grey exterior of the utensil.
Along with the color change, it will also cause uneven finishing, which cannot be regained once it passes through the dishwasher.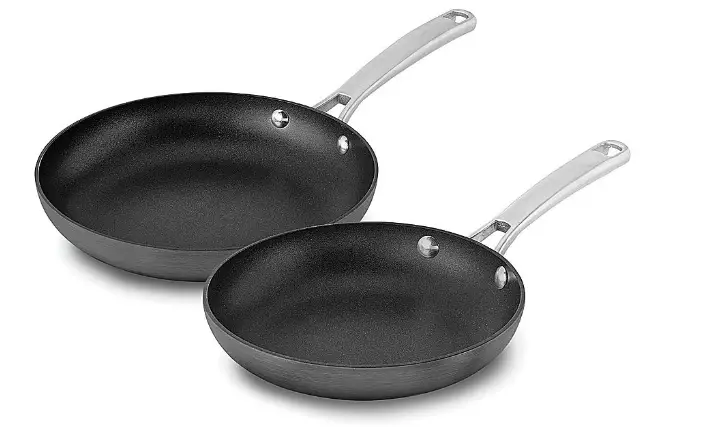 Preferred Washing Method of Calphalon Pans
The manufacturer or the seller may claim that your Calphalon pans are dishwasher safe, but it is always considered safe to wash them with your hands.
However, there are some possibilities to wash it in the dishwasher only if you do it with some precautions and extra care so that it will not get damaged.
There are some reasons which it is said to refrain from the pans from the dishwasher, as the detergent and cleaning agent used in it can severely affect its coating.
Another reason is that the other utensils in it can scrape the coating, leaving it unusable.
List of Calphalon Pans that are Dishwasher safe
There are some advancements made in the Calphalon non-stick cookware, which is made up of stainless steel and can be washed in the dishwasher.
However, it is always recommended to be hand washed for its longevity.
Some of the dishwasher-safe Calphalon pans are as follows:
Calphalon premier
Calphalon Williams-Sonoma Elite Non-stick
Calphalon Signature
Calphalon Contemporary
Calphalon Tri-ply
Calphalon Tri-ply Stainless Steel
Calphalon Accucore Stainless Steel
All the above-mentioned cookware is dishwasher safe as these are made up of stainless steel, which protects them from getting damaged.
List of Calphalon Pans that are not Dishwasher Safe
There are some of the cooking pans which should be avoided from throwing into the dishwasher are as follows:-
Calphalon Commercial Hard Anodized
Calphalon Classic
Calphalon Classic Non-stick Cookware
Calphalon Classic Ceramic Non-stick Cookware
Calphalon Pre-seasoned Cast Iron
Select by Calphalon
Select by Calphalon Oil Infused Ceramic Non-stick Cookware
Select by Calphalon Cast Iron Cookware
Simply Calphalon
Simply Calphalon Non-stick
Simply Calphalon Easy System
Simply Calphalon Enamel Non-stick
Calphalon One
These are some of the Calphalon pans which cannot be washed in the dishwasher and has to be washed with your hands.
Durability
Calphalon pans are built with great quality materials to last longer. But as we all are aware that nothing is forever.
The majority of the customers reported that their pan lasted For three years. But a lot of them have claimed that it lasted for five years or more. It can also last for up to ten years at most if handled with precaution and proper care.
The Calphalon pans have been in the market for a long period and doing great in their business which proves their quality.
Many people are unfamiliar that the manufacturer uses Polytetrafluoroethylene (PTFE) materials for making these pans to help the other relevant components distribute the heat uniformly and efficiently.
Its multiple-layer coating makes it heat resistant, which protects it even if it is placed at a very high temperature.
Maintenance
There are some tips mentioned to keep your Calphalon pans intact for a long time. Following these tips will surely increase the durability of your pans.
Hand washing your pans is always recommended for increasing their lifespan. Even if it is mentioned as dishwasher safe, hand washing is always preferred as it helps in maintaining the non-stick surface of the pan. It should b washed regularly to avoid any burnt particles remaining on the surface, which may damage it.
Non-stick pans are delicate, and they should be handled carefully, so avoid using any metallic spatula or spoon or any other sharp object as it may scratch the non-stick surface. Always use wooden, nylon, or plastic utensils, which should be blunt enough to prevent scratches. Also, avoid using appliances like electric mixers to prevent damage.
These pans cannot be washed the same way as other utensils with harsh detergent. First, try to wash it with hot running water so that all the food particles loosen up and rinse off as much as possible. Now use a mild liquid soap and scrub it with a soft sponge or a soft bristle brush. Avoid using harsh metal wool or metal brush as it will scrape its coating.
After washing your pan, let it dry completely before putting it back on the rack. You can wipe it with a dry and clean cloth or even let it air dry itself by putting it upside down so that there should not remain a single drop of water. Avoid putting a wet pan with the kid on, as it will make the pan smelly.
Restore the Non-stick Surface of Calphalon Pans
There are chances that you can burn your food in Calphalon pans as well, but nothing to worry about. There is a method to restore the damaged surface after the food is burnt.
The burnt surface may compromise the work of the non-stick pans, which can alter the taste of your cooked food in it. The food will stick to the pan if not cleaned properly, and it will start losing its shine and finish.
To restore the surface of the non-stick pan, you just need two ingredients which you can even find in the rack of your kitchen. Those two ingredients are baking soda and vinegar.
Take a cup of water and add two tablespoons of baking soda and half a cup of vinegar, and give it a good stir.
Pour the mixture into the damaged pan and put it on the stovetop. Allow it to boil for 15 minutes, and try not to exceed it.
Once it cools down a bit, wash it with your hands and clean all the gunk. Set it aside to dry by putting it upside down.
Now rub some cooking oil on the surface to restore its non-stick quality and luster.
Some Cooking Tips in Calphalon Pans
Pre-heating your Calphalon pans is suggested before heating them or cooking anything in them. Before greasing it with butter or oil, pre-heat the pan and do not set the stove directly to a high temperature.
Simply start with a low to medium setting and adjust it accordingly. High temperature is mainly used for boiling water.
The medium heat is considered best for most of the cooking, like frying, reducing sauces, preparing gravy, cooking perfect pancakes or omelets, etc.
For warming your cold food or cooking any delicate cuisine, low heat is suggested to avoid burning.
Anyone can make mistakes, including home cooks who can unintentionally burn the pan. Try these tips to get the perfect temperature and prevent your pan from burning.
Add a small portion of butter to the hot pan and check if it is bubbling or turning brown. The bubbling of butter is a sign of perfect temperature, while the butter turning brown indicates that the pan is overheated and the store needs to shut off.
The Calphalon cookware is designed to reduce the usage of oil. Do not use the oil spray-on as it will create a greasy film that will be difficult to remove, resulting in damage to the pan.
You should either use an oil brush or a paper towel soaked in oil to grease the pan.
Making the pan super oily is not needed; the non-stick surface will not stick to the food anyway.
Conclusion
So the question, which is constantly putting the customers into a dilemma, is answered here.
There are some dishwasher-safe pans, but not all of them, and even the dishwasher-safe ones are hands washed recommended to extend their life. You should always use the correct procedure to maintain the longevity of your Calphalon pans.
The Calphalon pans improve you as a cook, so get one in your kitchen and make your cooking easy. It just needs some care and caution, and it will remain for years with you.